COME TO PENNSYLVANIA AND TAKE A TRIP TO THE PUMPKIN PATCH WITH US
Be sure to click on pic to enlarge and then click again to make even bigger.
If the pic page doesn't load , page back and try again.
I-81 Heading North from MD.(we made a trip down to Hagerstown MD. earlier in the Day)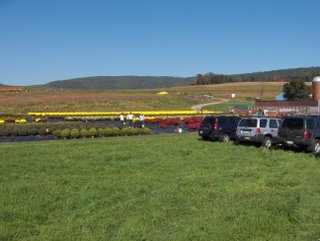 The Pumpkin Patch
Joe's first Hayride!
Mommy and Joe bouncing along the Hay Ride.
We tried to get him to hug the pumpkin. Evidently, he's a pumpkin kisser.
Happy in the Pumpkin Patch
Pennsylvania Color
My Lil Trucker. Not the safest driver.
The Great Tunnel Adventure
Running Wild in the Hay Maze.
Lil Joe and Daddy on the Big Slide
Squealing our way down
Taking a Break
He just had to have his own cart for his wee pumpkin. Pulling or pushing, he's bound and determined.
Pooped out Pumpkin Patch Kid
My Favorite Lil Pumpkin